Does HPE Amplifier have multi-vCenter registration support?
Recently, while building multiple vSphere clusters for a customer, a situation occurred that is important to mention.
The customer in question had chosen to purchase HPE Proliant DL380 Gen10 Rack servers on which the VMware hypervisor will run.
To use the latest features of vSphere 7.0, including firmware upgrade from the vSphere Lifecycle manager a hardware support manager (HSM) is needed from a certified vendor.
When using this HSM, in this particular scenario an HSM from HPE, it is possible to install firmware from the vSphere client interface as a VMware administrator.
During the summer of 2020, only the HPE Amplifier tool was having this functionality.
HPE Amplifier is a lightweight tool that provides functionality specifically for HPE Rack servers to link with vCenter with the hardware support manager (HSM).
Also, many customers still use HPE Amplifier for Infosight, to connect with HPE predictive analytics platform using the Internet.
Early 2021, the HPE Amplifier 1.7.1 was installed in the customer environment, however, during installation, we found out that it is not possible to register more than 1x vCenter from the HPE Amplifier, although the interface does suggest this, see screenshot: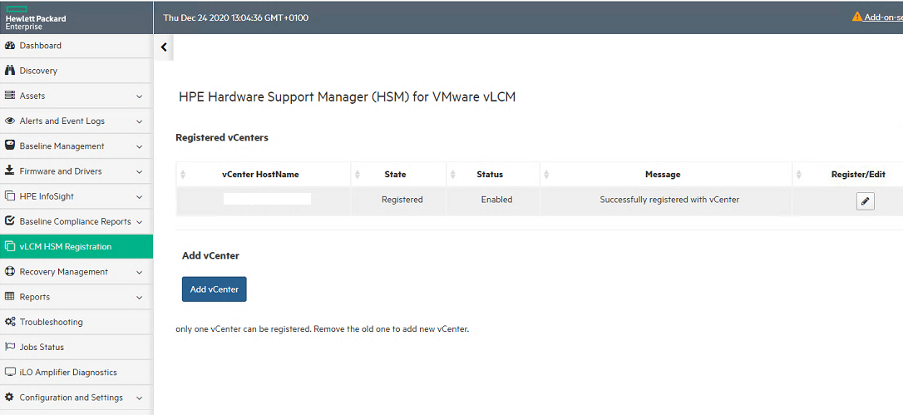 This restriction was certainly a showstopper for this customer because the HPE Amplifier appliance would serve various vSphere environments.
HPE Amplifier's HSM shows the following text in the HSM document https://support.hpe.com/hpesc/public/docDisplay?docId=a00097866en_us :
"Currently, only one vCenter instance can be registered. To add a new vCenter, unregister or delete the existing vCenter instance."

The word currently suggests that this feature may become available in the future, however during a session with HPE it was indicated that this is not on the roadmap.
After HPE Amplifier was dismissed, we noticed that somewhere in november 2020, HPE OneView for vCenter 10.1 was launched.
Also this version in combination with OneView 5.5 can connect to the vSphere Lifecycle Manager via an HSM, which allows firmware to be yielded from the vSphere Client.
This setup requires two appliances, 1x for OneView (OV) and 1x for OneView for vCenter (OV4VC).
The big advantage of OneView is that multi-vcenter registration is possible.
Also, HPE Infosight could become available in OneView in the future, eliminating the need for development on HPE Amplifier.
However, time will tell if that will happen any soon.
Although, for now with OneView 5.5 not having Infosight was a non-issue since HPE components are operating in an air-gapped environment at the customer site.
Conclusion
Even if a customer only owns HPE Rack servers, my advice would be to go for HPE OneView and not for HPE Amplifier, the OneView solution is future-proof and therefore in my opinion rock-solid.